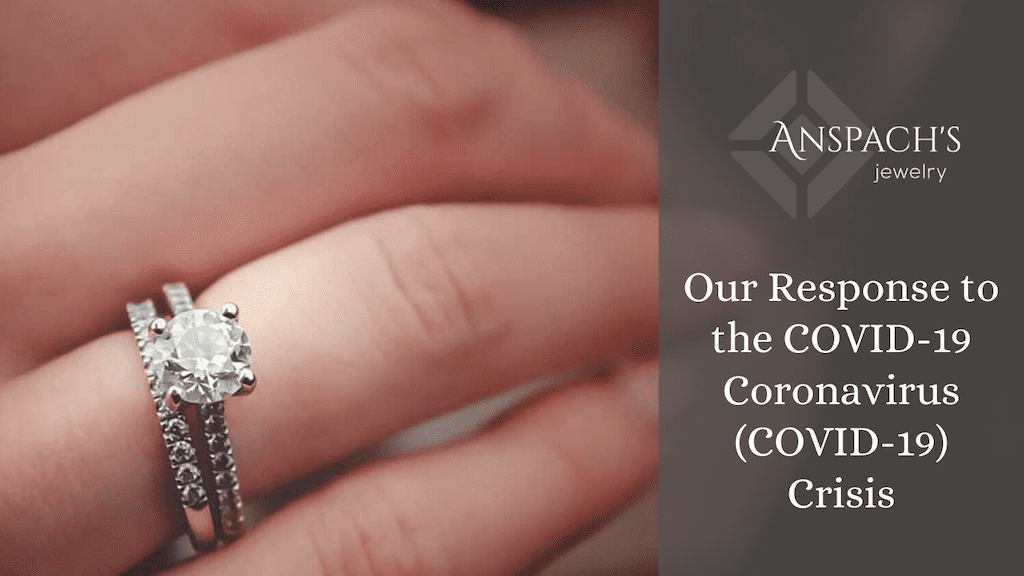 The past year and a half has brought tremendous change to our country as we all work together to prevent the spread of COVID-19. In these times of uncertainty, the expectations placed on each one of you are constantly changing and increasing in magnitude, which can be stressful and confusing.
Here at Anspach's Jewelry, we understand the severity of the situation at hand and the effort our clients are putting into stopping the spread of this disease. As such, we want to make sure we are matching that commitment level and taking all necessary steps to do our part in reducing the impact of the novel coronavirus.
We created the following FAQ to help clarify exactly what working with Anspach's Jewelry will look like in the coming weeks.
Please don't hesitate to reach out if you still have unanswered questions.
FAQs
Are you open?
We are currently open for regular business hours. We are not currently requiring masks pending Boulder County health mandates.
What are your current business hours?
Monday-Friday 10:00AM-5:00PM
Saturday 10:00AM-4:00PM
Closed Sunday
How about online payments?
Online payments are currently unavailable. To make a payment, please call us at (303) 665-5313 and arrange an alternative payment method.
What actions are you taking to keep me and my family safe?
During this time of unprecedented change, we realize that you are working hard to protect yourself and your family. As an organization that cares deeply about the well-being of our customers, we have also implemented new policies and processes that conform to CDC guidelines in order to keep you and your loved ones safe. The following steps are some of the biggest changes we have made in response to COVID-19:
Performing routine cleaning and disinfecting of equipment and commonly used surfaces, as well as strengthening cleaning efforts of at-risk areas
Providing gloves, masks, and/or other appropriate personal protective equipment to our employees
Communicating the importance of proper hand-washing techniques and personal hygiene habits to our employees
Advising employees who feel ill or show symptoms of COVID-19 to stay home from work
What about your staff?
Just like our customers, our staff is of the utmost importance. The protective measures above, especially the emphasis on hygiene and the provision of personal protective equipment, ensure the safety of not only our customers but also our highly-trained staff.
In this current season of uncertainty, we at Anspach's Jewelry want to let you know that we still value our commitment to excellent service.
Please call us at (303) 665-5313 with any questions at all.
We will continue to update this page as more information about the virus becomes available and our policies continue to adapt to the situation.