About
Glen and Dee Anspach, enchanted by a chamber of commerce brochure, moved from Bozeman, Montana to Lafayette in 1955. When the newlyweds arrived at the small, quaint town, they were initially disappointed with their decision. They had a little money and only their most precious possessions and clothing packed in their car.
They were immediately "adopted" by community leaders, who provided them with a business site, a home, furniture, food, and even took up a collection to finance the upstart business. Glen, a graduate of the Elgin Watch College, his wife Dee, and good friend, Joe Soltes, quickly established a reputation in the area as fine watchmakers and jewelers. A person could also get a fine cup of coffee and good conversation just about any time in the Anspach's living room, which by the way was connected to the jewelry store.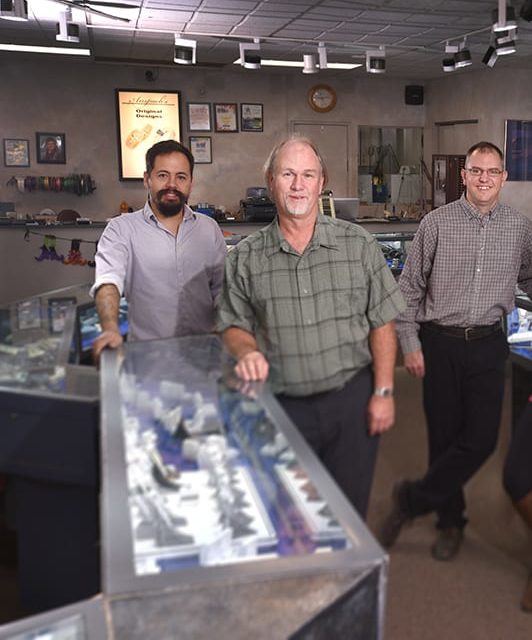 The business grew steadily and so did the merchandise selection. The store evolved from a small repair shop with watches and costume jewelry to a six-person operation providing crystal, sterling serving sets, fine jewelry, loose diamonds, and exceptional jewelry repair and custom designing. In 1967, Glen and Dee moved their business a half a block up the street to its current location.
The Anspach's never forgot the kindness of the community and both volunteered regularly. Glen was a Jaycee and was a major driving force behind what has now become Celebrate Lafayette. He formed and headed the Civil Defense Agency for over thirty years and even served four years as Lafayette's municipal judge.
Dee was very active with the First United Methodist Church in Lafayette as a Sunday School teacher, choir member, and board member. She also served 25 years as a 4-H leader, teaching sewing, knitting, and cooking to many young women in the area. The Anspach family was inducted into the Boulder County Business Hall of Fame in 2005.
Glen died suddenly in 1983, and Graig, his only son, decided to keep the family business going, along with Dee. As with any business, there were struggles at first with the "new ownership". Graig, Dee, Joe, and many family members have contributed to what is still today, a thriving business. Dee worked at the store for 50 years before she retired.
Ty Kuppinger, Graig's nephew, joined the family business, full time in 1997. He moved from eastern Oregon and trained at the Revere Jewelry Academy in San Francisco. He is an accomplished goldsmith and designer.
Anspach's Jewelry has proudly served Lafayette and the surrounding communities for over 50 years. We pride ourselves in maintaining a friendly and relaxed atmosphere while providing excellent service and exquisite custom designs.